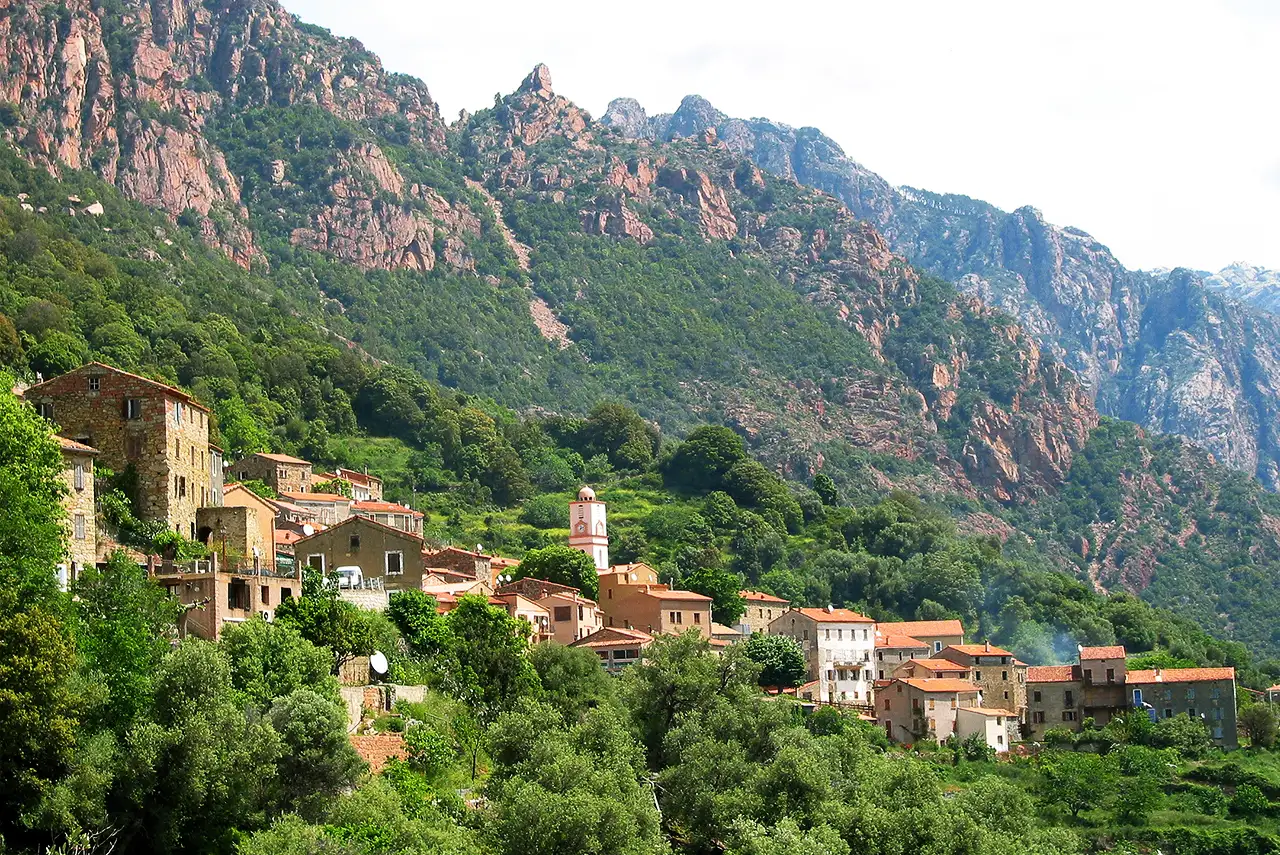 . A sunny village built on a hillside, Ota stands among terraces planted with olive trees. This area has been cultivated for centuries, with traditional crops such as citrus citron, vine and wheat. The houses look like small fortresses perched in the rocks.
Ota played an important historical role in the pieve (district) of Le Sia. During the Cinarchesi wars, this pieve, as well as others like Sevengrentu and Salognu, was allied to rebel leaders like Ghjuvan'Paulu di Leca (late 15th/early 16th), who led a resistance movement against the Genoese. The Sia was often attacked by the Genoese and by Turkish invaders, and the inhabitants of the Sia took refuge in the village of Ota.
The village is a good starting point to explore the Gorges of the Spelunca, where there is a bridge dating from the Genoese period, the Bridge of Zaglia. This bridge is on the old mule track connecting Ota to Evisa, which is now part of the long-distance hiking trail "Tra Mare e Monti".
A rock perched at the top of Mount Capu d'Ota (1,220 m) seems about to collapse on the peaceful village at its feet. The legend told by the villagers is that this rock is held in place by huge chains installed by monks who take turns to watch over the rock.
Ota is at the end of the mule track that crosses the Spelunca Gorges to Evisa (850m) after a beautiful and easy walk of about 3 hours. The walk is dotted with signs providing information on the local flora and fauna, as well as on the Genoese bridges of the area, such as the Zeglia Bridge.
☎ Call us ☎
CAMPING

  8am-10pm : 04 95 26 11 65


  9am-7pm : +336 18 81 17 13
RESERVATION

  9am-7pm : 06 18 81 17 13


  9am-7pm : +336 18 81 17 13
EMERGENCY


  24h/24h : 06 19 10 18 96
Write to us ✎
We will get back to you as quickly as possible everyday of the week except on Friday.
E-mail: funtana.contact@gmail.com
Terms and Conditions of Sales