The activities of the camping
Concerts of Corsican songs will enliven your evenings from May 15 to September 15.
Your days will be full at Funtana a l'ora.
Take advantage of our facilities such as our heated swimming pool, our multi-sports ground, and for nature lovers, dive into the river and its natural pools or enjoy the Corsican beaches 2km away.
In the evening, come and enjoy our delicious home-made pizzas with a drink at our bar.
The Magic of Corsican Songs
In Porto it is easy to keep busy all day long as the area is rich in hiking, beach, river and other activities. But for the evenings you have to choose when to rest and when to have fun. That's why the Funtana a l'ora campsite offers a lively evening for the guests of the campsite.
Every Tuesday from May 25 to September 5, local groups will perform on the terrace of the pizzeria the greatest classics of the Corsican song between 20:30 and 23:00 to have time to enjoy without harming the sleep.
Some videos of our evenings: Pool party, cocktail night, live nights, …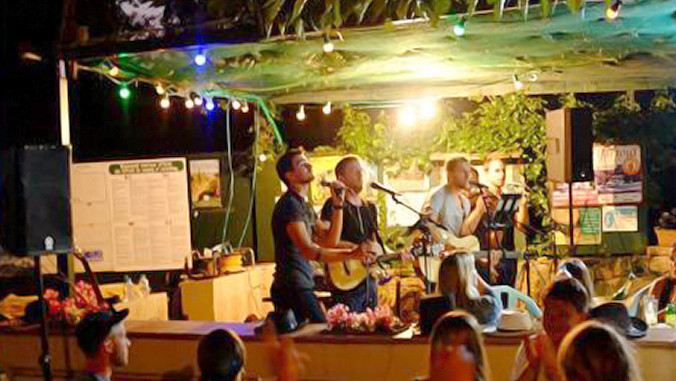 Sport on vacation in Porto is in the sun!
Whether you prefer climbing, canyoning, cycling or weight training, you will find what you are looking for in Porto.
The camping funtana a l'ora trusts the french company Numero 1 of the outdoor sport for the installation of an outdoor gym.
The program Traction, Dips, Plank and Abdo are waiting for you (15 years minimum)
Every Monday and Friday morning: Yoga!
Yoga is a great way to work on your flexibility. Yoga postures work by stretching your muscles.
They can help you move better and feel less stiff or tired. No matter what level of yoga you are at, you will start to feel the benefits quickly!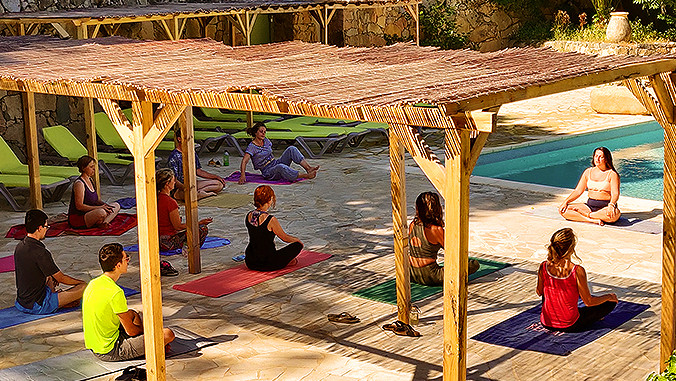 Activities outside of the camping
Patrick and Toussaint
welcome you to discover Corsica by boat and canoe since 1990 !
For a day or half-day, with or without a license for 1 to 12 people, discover the most beautiful sites of the Isle of Beauty. All our boats allow you to visit the Calanques of Piana, the beach of Ficajola, the Capo Rosso, Girolata or the natural reserve of Scandola.
To book your boat, call : 07 82 51 13 44 – 06 81 33 75 87 – 06 58 94 40 89
or by mail: contacter@patrickettoussaint.com
The Goéland
will make you discover South Corsica, but especially the Gulf of Porto, during your summer vacations in Corsica.
Whether you rent a boat without a license (accessible to all), with a license or for a trip at sea, you will discover the Calanques de Piana and the Scandola nature reserve, both classified as UNESCO World Heritage sites.
The different means of visits and itineraries recommended will open the doors of these natural sites to you, while respecting them.
The "
Hunter's Bar
", Restaurant and Bed and Breakfast "Chez Marie" is located in the heart of the Gulf of Porto, in Ota, a small village in southern Corsica.
In the family restaurant, a place not to be missed in the traditional Corsican gastronomy, VICTORINE and DINO will welcome you warmly and will make you discover the island specialities with the unforgettable flavours of the kitchen of the past.
The "Bar des Chasseurs", an authentic Corsican bar, with a typical atmosphere and decor, welcomes you all year round.
☎ Call us ☎
CAMPING

  8am-10pm : 04 95 26 11 65


  9am-7pm : +336 18 81 17 13
RESERVATION

  9am-7pm : 06 18 81 17 13


  9am-7pm : +336 18 81 17 13
EMERGENCY


  24h/24h : 06 19 10 18 96
Write to us ✎
We will get back to you as quickly as possible everyday of the week except on Friday.
E-mail: funtana.contact@gmail.com
Terms and Conditions of Sales